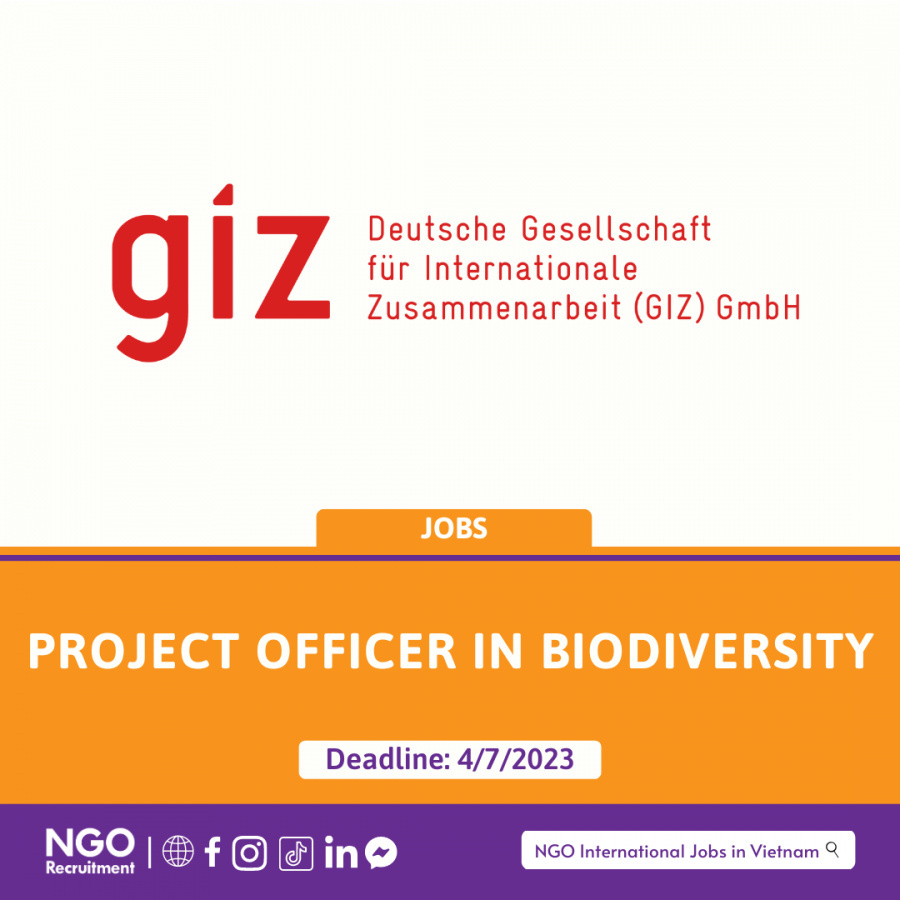 GIZ IS LOOKING FOR A PROJECT OFFICER IN BIODIVERSITY
📌 About GIZ:
As a federal enterprise, the Deutsche Gesellschaft für Internationale Zusammenarbeit (GIZ) GmbH supports the German Government in achieving its objectives in the field of international cooperation for sustainable development. We work in a variety of fields and support our cooperation partners in designing strategies and meeting their policy goals. GIZ Viet Nam is currently engaged in three priority areas: 1) Vocational training; 2)Environmental policy and sustainable natural resource use;3)Energy. Gender equality is one of the key values of our company and of the work we do. Fostering gender equality in our project operation and our internal equal opportunity provisions are two strategic pillars of our corporate identity and policy. For further information please visit our website: www.giz.de/vietnam.
📌 Main Responsibilities:
• Assist the programme management (CTA/TA) in achieving the programme´s objectives;
• Provide technical advice to the Nature and Biodiversity Conservation Agency (NBCA), other line ministries and provincial government agencies on biodiversity and the nexus to climate change;
• Support NBCA and other line ministries with the systematic design, development and integration of strategies and policies in the field of biodiversity;
• Assist NBCA with the development of strategies and plans to implement the National Biodiversity Strategy and Action Plan (NBSAP);
• Provide assistance in reviewing and amending the national legal framework on biodiversity in line with the Global Biodiversity Framework (GBF);
• Support policy dialogue and knowledge exchange on biodiversity for a greater engagement and exchange of academia, private sector, development partners, women`s organisations as well as government stakeholders;
• Provide advisory services for the preparation of upcoming CBD COPs;
• Track international developments, debates and agreements on biodiversity and integrate them into the advisory work of the SIPA project;
• Contribute to the implementation of NbSA measures and capacity development in the provinces of Ha Tinh and Quang Binh;
• Support the mainstreaming of NBSAP targets in provincial planning processes;
• Contribute to fundraising and proposal development to attract national and international climate and biodiversity finance;
• Other tasks.
📌 How to apply:
For further information and application please visit this website: https://ngorecruitment.org/project-officer-in-biodiversity-giz.html
______________________________
📌 NGO RECRUITMENT – MENTORING 1:1
👉 Nếu bạn đang gặp vấn đề trong việc lựa chọn nghề nghiệp hoặc đang muốn tăng khả năng cạnh tranh khi ứng tuyển vào các tổ chức phi chính phủ, các tổ chức quốc tế thì hãy nhanh tay đăng ký chương trình NGO MENTORING 1:1 tại:
➢ Link tổng hợp: http://mentoring.ngorecruitment.org
______________________________
Việc làm tại các tổ chức phi chính phủ – NGO Recruitment
📧 Email: ngorecruitment.org@gmail.com
☎️ Hotline: 0983.896.331
🌐 Website: https://ngorecruitment.org/
📌 Instagram: https://www.instagram.com/ngorecruitment_vn
📌LinkedIn: https://www.linkedin.com/in/ngorecruitment
📌Group: https://www.facebook.com/groups/VieclamPhichinhphu
📌Youtube: youtube.com/c/NGORecruitment
#NGORecruitment #vieclamphichinhphu #NGOJobs #NPOs #INGOs #Tuvanhuongnghiep #NGO_Mentoring
Phượt khám phá việt nam
Thế giới du lịch
Kênh khám phá trải nghiệm
Những chuyến đi dài tuổi trẻ
Thông tin du lịch việt nam
Đi và cảm nhận cảnh đẹp đất nước