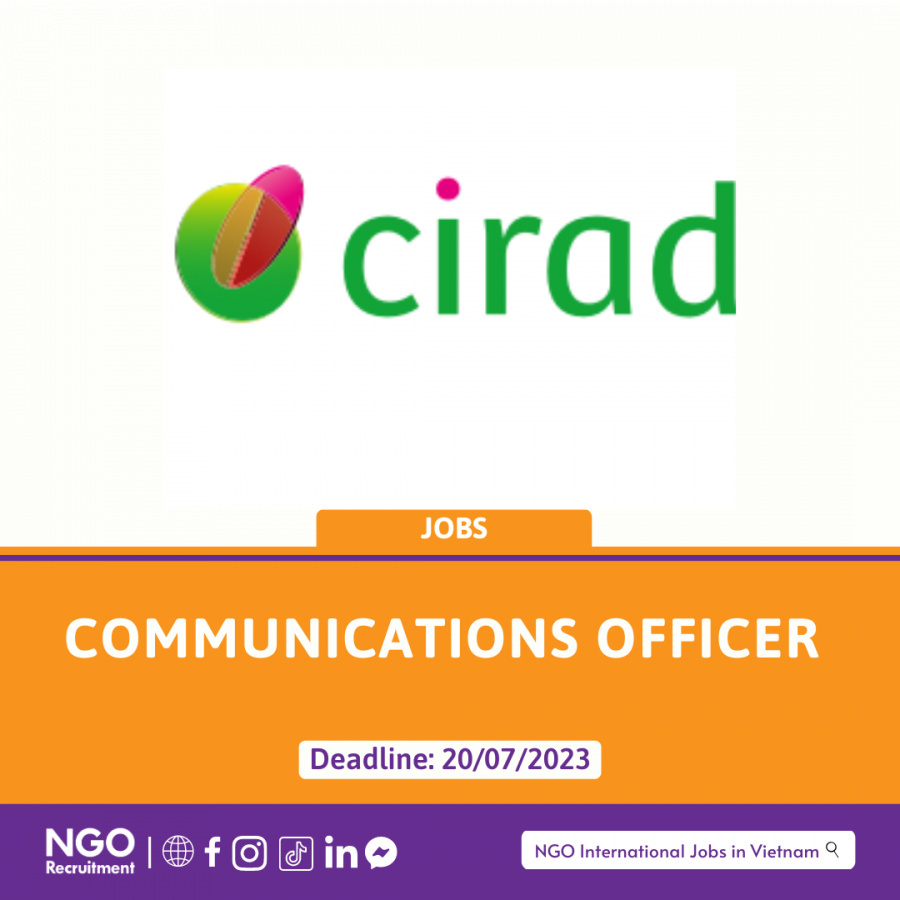 CIRAD IS SEEKING A COMMUNICATIONS OFFICER
📌 About CIRAD: the French agricultural research and cooperation organization working for the sustainable development of tropical and Mediterranean regions. CIRAD (French Agricultural Research Centre for International Development) works with its partners to build knowledge and solutions and invent resilient farming systems for a more sustainable, inclusive world. It mobilizes science, innovation and training in order to achieve the Sustainable Development Goals. Its expertise supports the entire range of stakeholders, from producers to public policymakers, to foster biodiversity protection, agroecological transitions, food system sustainability, health (of plants, animals and ecosystems), sustainable development of rural territories, and their resilience to climate change.
📌 Job Description:
• Position: Communications Officer
• Location: Hanoi, Vietnam
📌 Principle Duties and Responsibilities:
• To co-construct the annual communication plan, with the Regional Director and the Executive Assistant, in line with CIRAD's institutional communication strategy; this plan will have to activate the relevant communication levers to achieve the objectives: website, social networks, media relations, events, etc.
• Produce news items based on projects carried out by researchers in the zone, workshops/project reports, research platforms news items, meetings with the Regional Director and events (news items on cirad.fr);
• Design and send out the regional newsletter, in conjunction with CIRAD's webmaster
• Update the Regional Direction web pages on the cirad.fr website (beyond news);
• Obtaining relevant information, particularly results (during the course of the project) from project managers present in the area or heavily involved via field missions;
• Designing and producing (alone or with the support of local service providers) print and audio-visual materials (videos, photo exhibitions, podcasts, etc.);
• Propose and produce posts for the Regional Direction existing accounts [Twitter, Linkedin, Instagram and Facebook] or those to be created (if necessary, to be assessed);
• Drafting press releases and establishing relations with the local media and local correspondents of foreign media on the occasion of events, major results, etc;
• Add photos taken at events to your news and posts;
• Maintain relations with networks of communicators in the region: major CIRAD projects and partners that have their own communication officer (but for limited periods by definition), French embassies, AFD delegations, European Union delegations, national ministries (research, health, agriculture, environment, etc.)
📌 How to Apply: For further information and application please visit this website: https://ngorecruitment.org/vpdd-to-chuc-cirad-tai-ha-noi-tuyen-dung-communications-officer.html ______________________________
📌 NGO RECRUITMENT – MENTORING 1:1
👉 Nếu bạn đang gặp vấn đề trong việc lựa chọn nghề nghiệp hoặc đang muốn tăng khả năng cạnh tranh khi ứng tuyển vào các tổ chức phi chính phủ, các tổ chức quốc tế thì hãy nhanh tay đăng ký chương trình NGO MENTORING 1:1 tại:
➢ Link tổng hợp: http://mentoring.ngorecruitment.org
______________________________
Việc làm tại các tổ chức phi chính phủ – NGO Recruitment
📧 Email: ngorecruitment.org@gmail.com
☎️ Hotline: 0983.896.331 🌐 Website: https://ngorecruitment.org/ 📌 Instagram: https://www.instagram.com/ngorecruitment_vn 📌LinkedIn: https://www.linkedin.com/in/ngorecruitment 📌Group: https://www.facebook.com/groups/VieclamPhichinhphu 📌Youtube: youtube.com/c/NGORecruitment #NGORecruitment #vieclamphichinhphu #NGOJobs #NPOs #NGOs #Tuvanhuongnghiep #NGO_Mentoring
Phượt khám phá việt nam
Thế giới du lịch
Kênh khám phá trải nghiệm
Những chuyến đi dài tuổi trẻ
Thông tin du lịch việt nam
Đi và cảm nhận cảnh đẹp đất nước