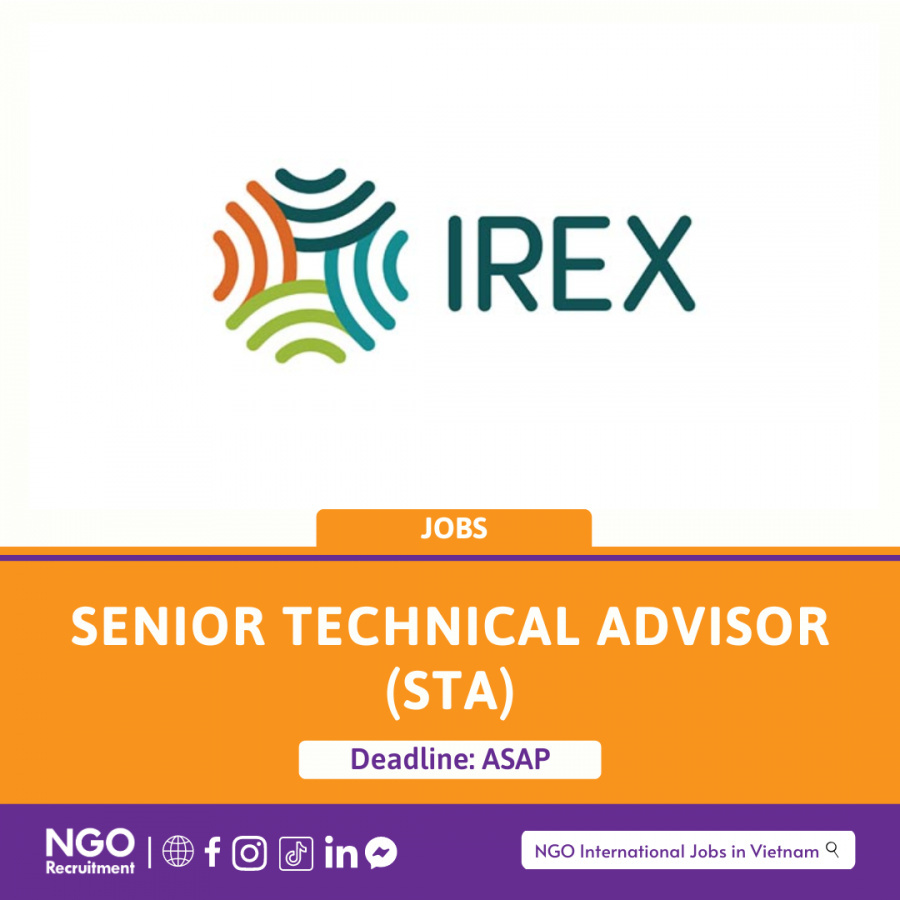 IREK IS SEEKING A QUALIFIED SENIOR TECHNICAL ADVISOR (STA) CANDIDATES TO LEAD AN ANTICIPATED FIVE-YEAR USAID-FUNDED INNOVATIVE WORKFORCE ACTIVITY IN VIETNAM.
📌 About IREX: IREX is an independent nonprofit organization dedicated to building a more just, prosperous, and inclusive world by empowering youth, cultivating leaders, strengthening institutions, and extending access to quality education and information. Founded in 1968, IREX has an annual portfolio of over $100 million, work in more than 100 countries worldwide with offices in 20 countries, and a global staff of 600.
📌 Job Description:
• Position: Senior Technical Advisor (STA)
• Location: Vietnam
📌 Principle Duties and Responsibilities:
In conjunction with the Chief of Party, create and implement a strategy to enhance Vietnam's digital workforce and local innovation.
Design, develop, and manage evidenced-based interventions targeted at narrowing digital skill supply and demand gaps in selected areas and strengthening the local innovation ecosystem by, illustratively: improving legal and regulatory frameworks for an inclusive digital workforce; expanding sustainable private sector-led digital reskilling, upskilling, and life-long learning models; and implementing solutions to strengthen the connections between digital workforce supply and demand as well as the capacity of various innovation ecosystem actors.
Ensure the program adaptively responds to changes in the operating environment to meet the desired objectives.
Manage and supervise a team of technical support staff.
Ensure activities are gender sensitive/transformative, align with positive youth development, and emphasize participatory and youth-led approaches to narrowing the digital divide.
Establish, cultivate, and maintain relationships with the ecosystem of program stakeholders, including public sector entities, civil society organizations, digital technology organizations, community-based organizations, and local governments, donors and implementers, program beneficiaries, and others.
📌 How to Apply: For further information and application please visit this website: https://ngorecruitment.org/senior-technical-advisor-irex.html ______________________________
📌 NGO RECRUITMENT – MENTORING 1:1
👉 Nếu bạn đang gặp vấn đề trong việc lựa chọn nghề nghiệp hoặc đang muốn tăng khả năng cạnh tranh khi ứng tuyển vào các tổ chức phi chính phủ, các tổ chức quốc tế thì hãy nhanh tay đăng ký chương trình NGO MENTORING 1:1 tại:
➢ Link tổng hợp: http://mentoring.ngorecruitment.org
______________________________
Việc làm tại các tổ chức phi chính phủ – NGO Recruitment
📧 Email: ngorecruitment.org@gmail.com
☎️ Hotline: 0983.896.331 🌐 Website: https://ngorecruitment.org/ 📌 Instagram: https://www.instagram.com/ngorecruitment_vn 📌LinkedIn: https://www.linkedin.com/in/ngorecruitment 📌Group: https://www.facebook.com/groups/VieclamPhichinhphu 📌Youtube
Phượt khám phá việt nam
Thế giới du lịch
Kênh khám phá trải nghiệm
Những chuyến đi dài tuổi trẻ
Thông tin du lịch việt nam
Đi và cảm nhận cảnh đẹp đất nước