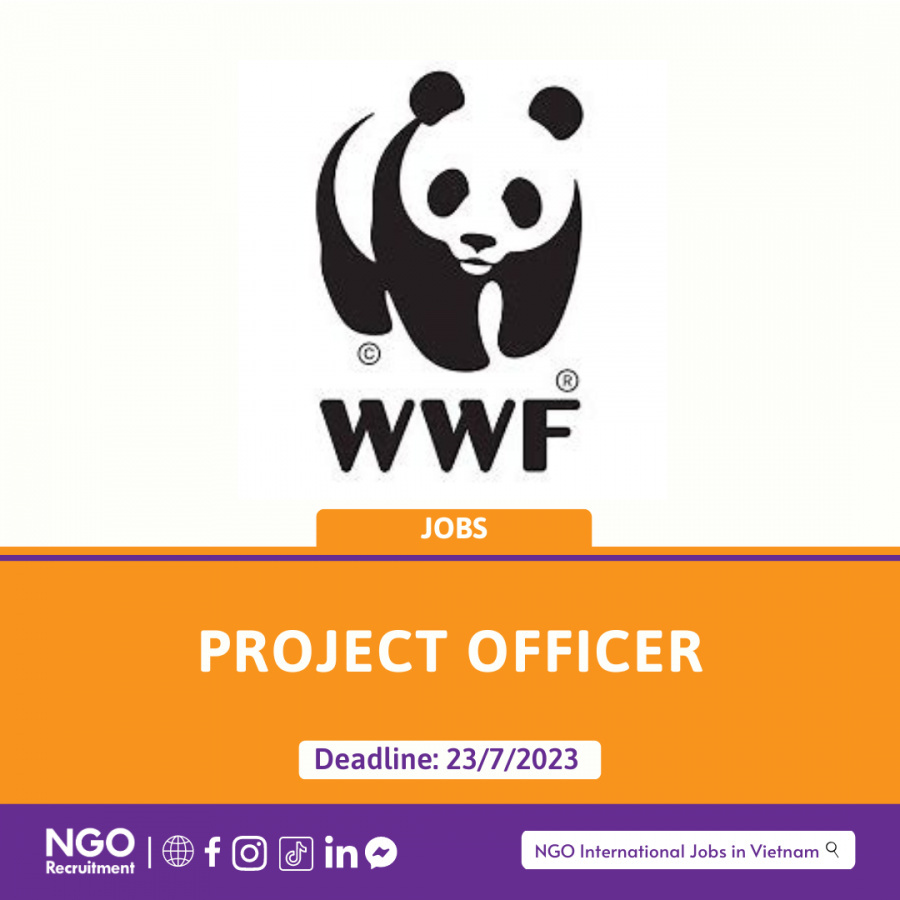 WORLD WIDE FUND FOR NATURE (WWF-VIETNAM) IS LOOKING FOR A PROJECT OFFICER
📌 Job Description:
Position title: Project Officer, USAID Biodiversity Conservation
Reports to: Deputy Chief of Party, USAID Biodiversity Conservation, WWF-Viet Nam
Supervises: N/A
Location: Ha Noi
📌 Principle Duties and Responsibilities:
Support DCOP, SA Leads and Specialists in planning for activities implementation at central and inter-provincial level.
Prepare Activity Plan, Purchase Request for DCOP and SA Leads to review, upload on DocuSign for approval.
Organize/implement project activities including but not limited to training of government staff, technical workshops, meetings, technical meetings with government counterparts.
Support the implementation of consultant missions and participate in these as required.
Support DCOP and SA leads in compiling SOWs and recruiting consultants (collating CVs, preparation evaluation forms, arranging interviews, and other paperwork).
Support DCOP in some coordination tasks with CPMU, PPMUs/PAs as needed.
Be responsible for the administration and proper collection of required monitoring data of workshops and project activities.
Contribute to monthly, quarterly, and annual work plans and to quarterly and annual reports at the request of DCOP/ SA Leads.
And perform other duties as required by DCOP.
📌 How to Apply: For further information and application please visit this website: https://ngorecruitment.org/project-officer-wwf-vietnam.html ______________________________
📌 NGO RECRUITMENT – MENTORING 1:1
👉 Nếu bạn đang gặp vấn đề trong việc lựa chọn nghề nghiệp hoặc đang muốn tăng khả năng cạnh tranh khi ứng tuyển vào các tổ chức phi chính phủ, các tổ chức quốc tế thì hãy nhanh tay đăng ký chương trình NGO MENTORING 1:1 tại:
➢ Link tổng hợp: http://mentoring.ngorecruitment.org
______________________________
Việc làm tại các tổ chức phi chính phủ – NGO Recruitment
📧 Email: ngorecruitment.org@gmail.com
☎️ Hotline: 0983.896.331
🌐 Website: https://ngorecruitment.org/
📌 Instagram: https://www.instagram.com/ngorecruitment_vn
📌LinkedIn: https://www.linkedin.com/in/ngorecruitment
📌Group: https://www.facebook.com/groups/VieclamPhichinhphu
📌Youtube: youtube.com/c/NGORecruitment
#NGORecruitment #vieclamphichinhphu #NGOJobs #NPOs #NGOs #Tuvanhuongnghiep #NGO_Mentoring
Phượt khám phá việt nam
Thế giới du lịch
Kênh khám phá trải nghiệm
Những chuyến đi dài tuổi trẻ
Thông tin du lịch việt nam
Đi và cảm nhận cảnh đẹp đất nước