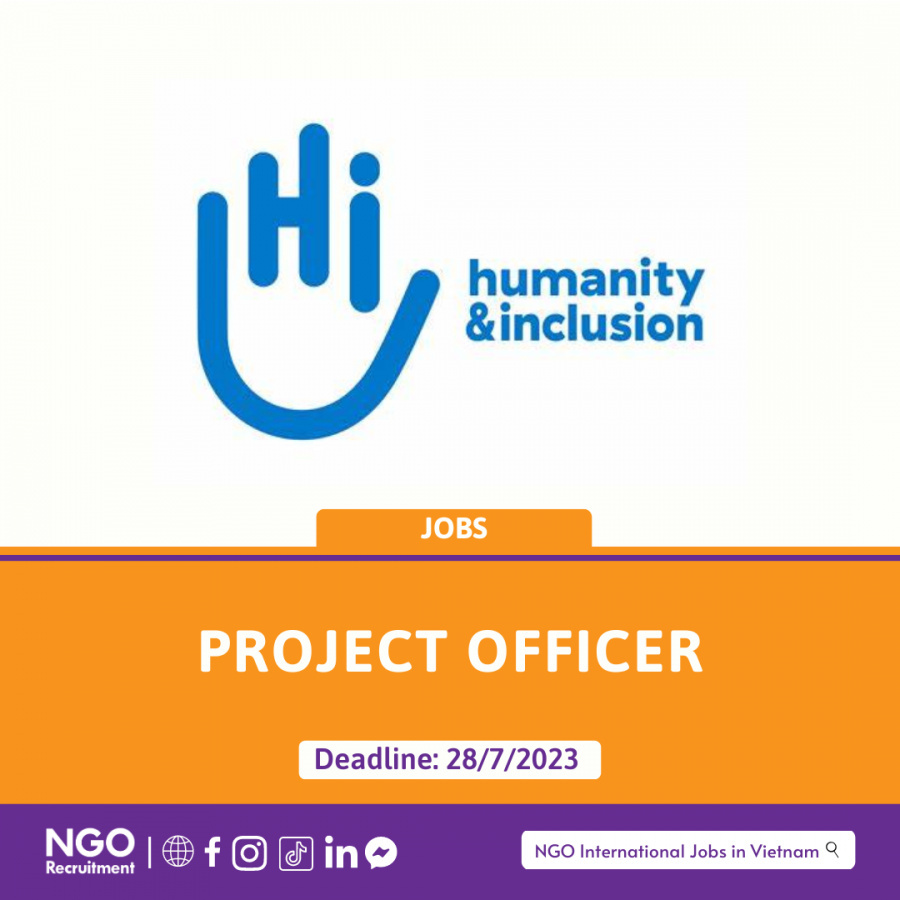 HUMANITY & INCLUSION (HI) IS LOOKING FOR A PROJECT OFFICER
📌 About Humanity & Inclusion (HI): is an independent and impartial aid and development organisation with no religious or political affiliations operating in situations of poverty and exclusion, conflict and disaster. We work alongside people with disabilities and vulnerable people to help meet their essential needs, improve their living conditions and promote respect for their dignity and fundamental rights. HI is engaged in an employment policy in favour of disabled workers. For further information about the association: www.hi.org.
📌 Job Description:
• Position title: Project Officer
• Location: Ha Noi, Vietnam
📌 Principle Duties and Responsibilities:
• Contribute to project planning and implementation in line with the existing frameworks
• Contribute to project monitoring, evaluation, accountability and learning
• Ensure project data management
• Contribute to the coordination of project teams
• Contribute to external project communication
• The PO will be responsible for the implementation of project activities and maintain strong collaboration with technical unit, MEAL unit and shared services departments to mobilize necessary supports.
📌 How to Apply:
For further information and application please visit this website: https://ngorecruitment.org/project-officer-hi.html
______________________________
📌 NGO RECRUITMENT – MENTORING 1:1
👉 Nếu bạn đang gặp vấn đề trong việc lựa chọn nghề nghiệp hoặc đang muốn tăng khả năng cạnh tranh khi ứng tuyển vào các tổ chức phi chính phủ, các tổ chức quốc tế thì hãy nhanh tay đăng ký chương trình NGO MENTORING 1:1 tại:
➢ Link tổng hợp: http://mentoring.ngorecruitment.org
______________________________
Việc làm tại các tổ chức phi chính phủ – NGO Recruitment
📧 Email: ngorecruitment.org@gmail.com
☎️ Hotline: 0983.896.331
🌐 Website: https://ngorecruitment.org/
📌 Instagram: https://www.instagram.com/ngorecruitment_vn
📌LinkedIn: https://www.linkedin.com/in/ngorecruitment
📌Group: https://www.facebook.com/groups/VieclamPhichinhphu
📌Youtube: youtube.com/c/NGORecruitment
#NGORecruitment #vieclamphichinhphu #NGOJobs #NPOs #INGOs #Tuvanhuongnghiep #NGO_Mentoring
Phượt khám phá việt nam
Thế giới du lịch
Kênh khám phá trải nghiệm
Những chuyến đi dài tuổi trẻ
Thông tin du lịch việt nam
Đi và cảm nhận cảnh đẹp đất nước