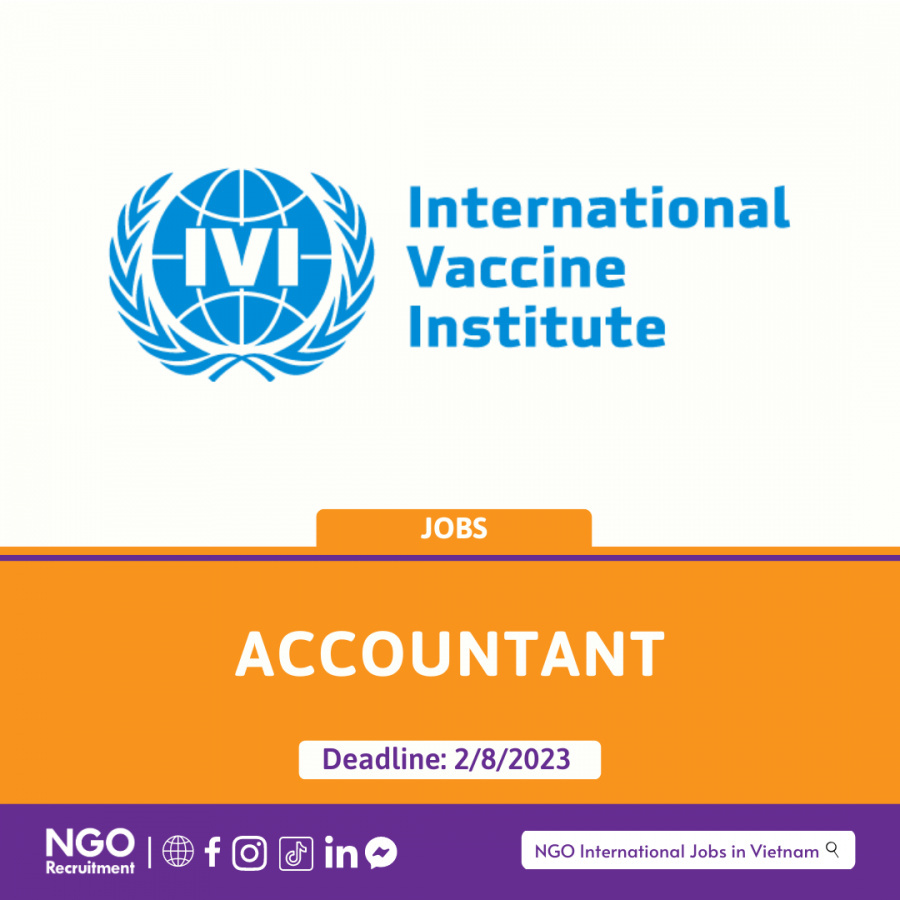 INTERNATIONAL VACCINE INSTITUTE (IVI) IS SEEKING FOR AN ACCOUNTANT
📌 Job Description:
• Position: Accountant
• Contract term: 1-year contract, can be extended if the two parties agree.
• Report directly to: Chief Accountant
• Start Date: as soon as possible.
• Working hours: Normal working hours are Monday to Friday from 8.30 am to 5.30 pm but could be flexible. Work outside normal hours may be required.
• Work location: Room 501, Icon 4 Building, 243A De La Thanh St. – Dong Da – Ha Noi.
📌 Principle Duties and Responsibilities:
• Tracking and reconciling revenues and expenditures.
• Accounting expenses.
• Manage, reconcile and report receivables and payables.
• Monitor and urge debts and documents.
• Invoicing and control of input and output invoices
• Check and synthesize data, store documents scientifically and safely.
• Prepare invoice usage reports.
• quarterly tax reports.
• Perform other duties as assigned by the Chief Accountant and the Executive Board of the Institute
📌 How to Apply: For further information and application please visit this website:https://ngorecruitment.org/accountant-ivi.html ______________________________
📌 NGO RECRUITMENT – MENTORING 1:1
👉 Nếu bạn đang gặp vấn đề trong việc lựa chọn nghề nghiệp hoặc đang muốn tăng khả năng cạnh tranh khi ứng tuyển vào các tổ chức phi chính phủ, các tổ chức quốc tế thì hãy nhanh tay đăng ký chương trình NGO MENTORING 1:1 tại:
➢ Link tổng hợp: http://mentoring.ngorecruitment.org
______________________________
Việc làm tại các tổ chức phi chính phủ – NGO Recruitment
📧 Email: ngorecruitment.org@gmail.com
☎️ Hotline: 0983.896.331
🌐 Website: https://ngorecruitment.org/
📌 Instagram: https://www.instagram.com/ngorecruitment_vn
📌LinkedIn: https://www.linkedin.com/in/ngorecruitment
📌Group: https://www.facebook.com/groups/VieclamPhichinhphu
📌Youtube: youtube.com/c/NGORecruitment
#NGORecruitment #vieclamphichinhphu #NGOJobs #NPOs #NGOs #Tuvanhuongnghiep #NGO_Mentoring
Phượt khám phá việt nam
Thế giới du lịch
Kênh khám phá trải nghiệm
Những chuyến đi dài tuổi trẻ
Thông tin du lịch việt nam
Đi và cảm nhận cảnh đẹp đất nước