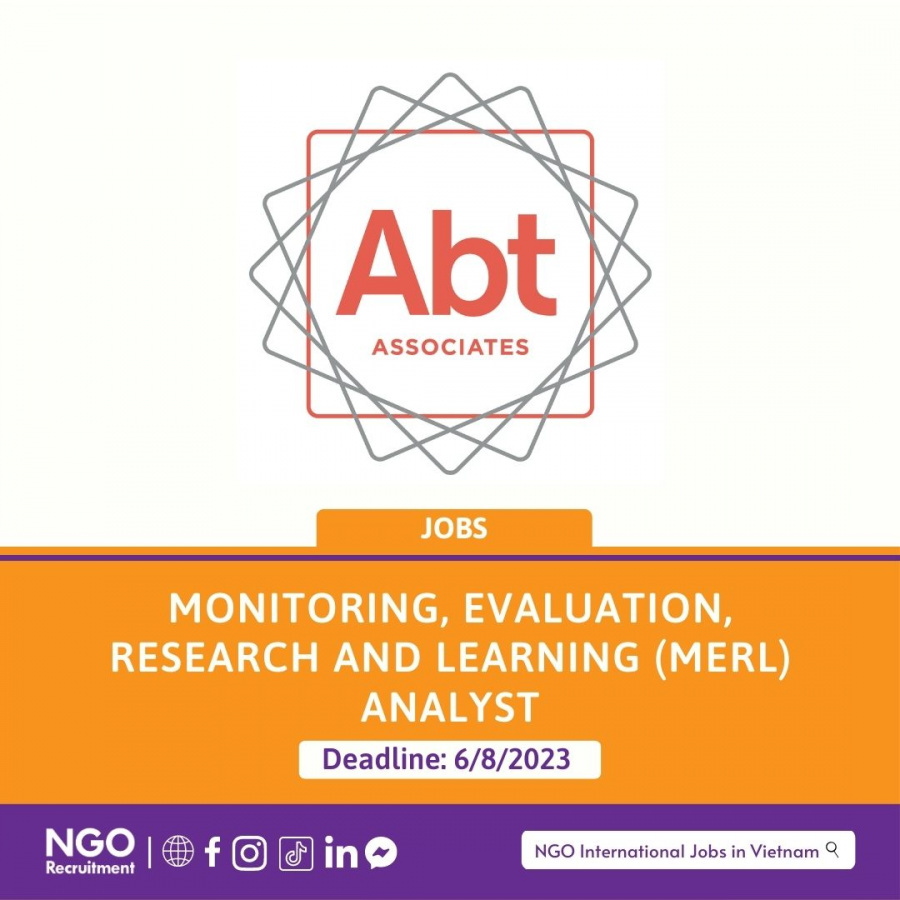 ABT ASSOCIATES IS SEEKING FOR A MONITORING, EVALUATION, RESEARCH, AND LEARNING ANALYST FOR "INVESTING IN WOMEN" PROGRAM
📌 About Abt Associates:
Abt Associates is a mission-driven, global leader with a proven track record in complex program implementation in the international development sector. We offer bold solutions and technical excellence in Health, Economic Growth, Governance, Research & Evaluation, Environment & Energy, Gender Equality & Social Inclusion. Working with our many partners, we have driven measurable social impact for more than 55 years, to achieve our mission of improving the quality of life and economic well-being of people worldwide. We operate in remote and challenging environments and employ more than 3,700 staff in over 50 countries. For more information about us and what we do, visit our website at www.abtassociates.com.
📌 Job Description:
• Engagement duration: September 2023 to 30 June 2027
• Employment type: A citizen role, but open to others who have legal right to work in country under a local compensation package.
• Location: Hanoi, Vietnam
• Application close: 6/8/2023, Sunday.
📌 Principle Duties and Responsibilities:
✨ Data Collection and Management:
• Coordinate and implement data collection activities in the country where the MERL Analyst is based, in collaboration with the MERL team and in consultation with the in-country team.
• Provide contextual insights to inform the development and finalization of data collection tools and methods, ensuring their practicality, contextual appropriateness, and cultural sensitivity.
✨ Data Analysis and Reporting:
• Conduct analysis of the collected data using appropriate statistical methods and software.
• Provide inputs to relevant reports presenting key findings, trends, and recommendations specific to the country.
✨ Capacity Building and Knowledge Sharing:
• Provide training and technical support to in-country partners and stakeholders on data collection, analysis, and reporting techniques.
• Foster a learning culture within partner organizations, promoting the use of data for evidence-based decision-making.
✨ Relationship Building:
• Supported by the in-country team, nurture and maintain effective working relationships with partners and relevant in-country stakeholders.
• Coordinate with relevant partners and stakeholders to ensure the timely availability of data and information required for monitoring and evaluation purposes.
✨ With support and oversight from the MERL and in-country team:
• Collaborate with in-country partners and relevant stakeholders to plan, coordinate and execute data collection activities as designed by the MERL framework.
• Input the collected data into appropriate databases or systems.
📌 How to Apply:
For further information and application please visit this website: https://ngorecruitment.org/monitoring-evaluation-research-and-learning-merl-analyst-abt-associates.html
______________________________
📌 NGO RECRUITMENT – MENTORING 1:1
👉 Nếu bạn đang gặp vấn đề trong việc lựa chọn nghề nghiệp hoặc đang muốn tăng khả năng cạnh tranh khi ứng tuyển vào các tổ chức phi chính phủ, các tổ chức quốc tế thì hãy nhanh tay đăng ký chương trình NGO MENTORING 1:1 tại:
➢ Link tổng hợp: http://mentoring.ngorecruitment.org
______________________________
Việc làm tại các tổ chức phi chính phủ – NGO Recruitment
📧 Email: ngorecruitment.org@gmail.com
☎️ Hotline: 0983.896.331
🌐 Website: https://ngorecruitment.org/
📌 Instagram: https://www.instagram.com/ngorecruitment_vn
📌LinkedIn: https://www.linkedin.com/in/ngorecruitment
📌Group: https://www.facebook.com/groups/VieclamPhichinhphu
📌Youtube: youtube.com/c/NGORecruitment
#NGORecruitment #vieclamphichinhphu #NGOJobs #NPOs #NGOs #Tuvanhuongnghiep #NGO_Mentoring
Phượt khám phá việt nam
Thế giới du lịch
Kênh khám phá trải nghiệm
Những chuyến đi dài tuổi trẻ
Thông tin du lịch việt nam
Đi và cảm nhận cảnh đẹp đất nước