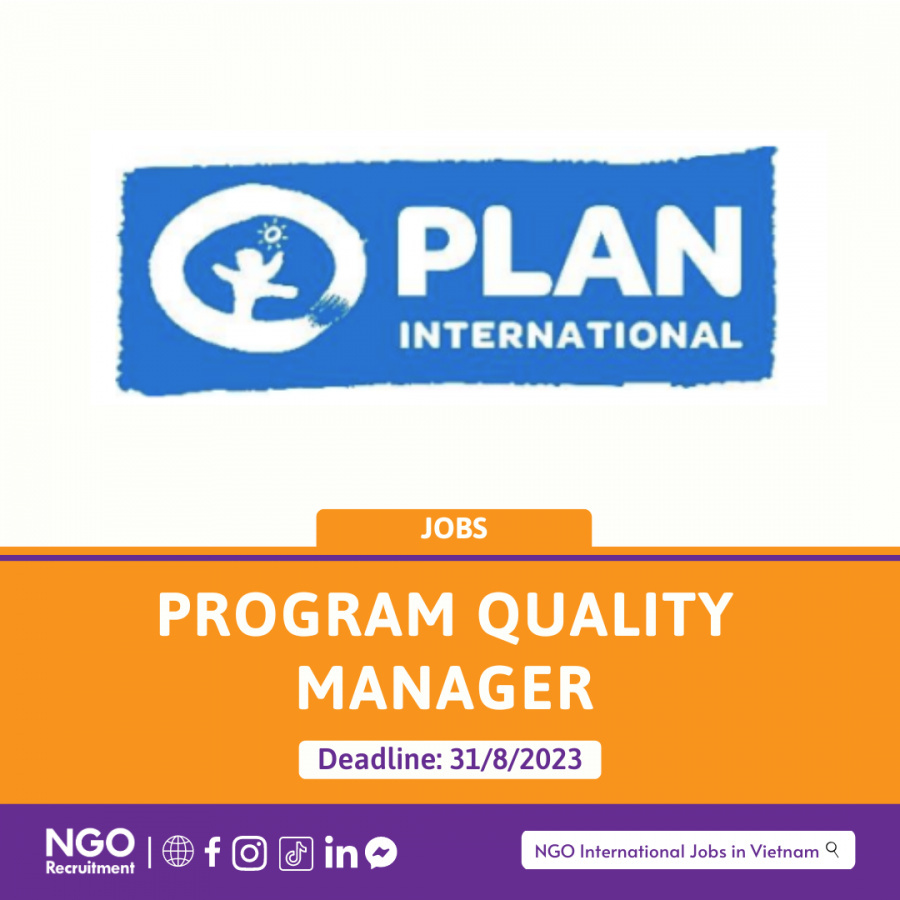 PLAN INTERNATIONAL IS SEEKING FOR A PROGRAM QUALITY MANAGER
📌 Job Description:
• Position: Program Quality Manager
• Working location: Ha Noi
• E-mail: vnm.hrd@plan-international.org
• Deadline: 31/8/2023
📌 Principle Duties and Responsibilities:
• Provide leadership in the development strategy and key technical sector priorities for PIV, ensuring that PIV strategy is aligned with PII strategy.
• Ensure that that strategy document is fully understood and key components are translated into the country annual business plan, and development of annual implementation plans for the Program Quality team.
• Ensure that PIV is able to operationalize both our grant and sponsorship funds in the organizational setting.
• Manage and ensure that all PIV's interventions have a strong evidence base and that all activities are in line with PII and humanitarian industry global standards.
• Continually research issues related to child poverty and girls' rights in Vietnam to keep CMT informed of opportunities for child-rights programming, and to build reliable evidences of issues related to all programmatic areas
• Lead the coordination and review of major program quality documents including report writing and ensure documents meet donor and international best practice quality standards.
• Ensure that PIV is effectively contributing to global advocacy initiatives and has high quality advocacy, public engagement and campaign plans in place.
• Monitor the principles in partnership in Plan Vietnam, and provide technical support when needed, to make sure the program delivery process is efficient, effective and influencing
• High quality grant proposals are developed, ensuring all proposals submitted by PIV meet donor requirements and are strategically aligned.
📌 How to Apply: For further information and application please visit this website: https://ngorecruitment.org/program-quality-manager-plan-international-2.html
______________________________
📌 NGO RECRUITMENT – MENTORING 1:1
👉 Nếu bạn đang gặp vấn đề trong việc lựa chọn nghề nghiệp hoặc đang muốn tăng khả năng cạnh tranh khi ứng tuyển vào các tổ chức phi chính phủ, các tổ chức quốc tế thì hãy nhanh tay đăng ký chương trình NGO MENTORING 1:1 tại:
➢ Link tổng hợp: http://mentoring.ngorecruitment.org
______________________________
Việc làm tại các tổ chức phi chính phủ – NGO Recruitment
📧 Email: ngorecruitment.org@gmail.com
☎️ Hotline: 0983.896.331
🌐 Website: https://ngorecruitment.org/
📌 Instagram: https://www.instagram.com/ngorecruitment_vn
📌LinkedIn: https://www.linkedin.com/in/ngorecruitment
📌Group: https://www.facebook.com/groups/VieclamPhichinhphu
📌Youtube: youtube.com/c/NGORecruitment
#NGORecruitment #vieclamphichinhphu #NGOJobs #NPOs #NGOs #Tuvanhuongnghiep #NGO_Mentoring
Phượt khám phá việt nam
Thế giới du lịch
Kênh khám phá trải nghiệm
Những chuyến đi dài tuổi trẻ
Thông tin du lịch việt nam
Đi và cảm nhận cảnh đẹp đất nước