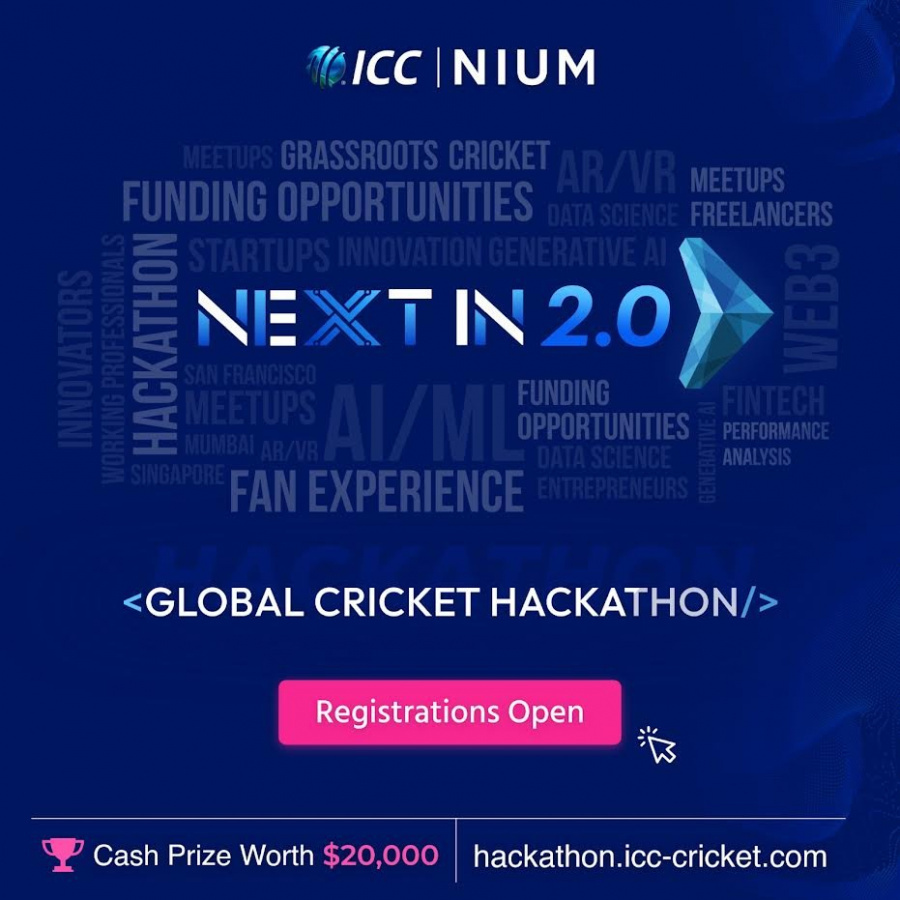 [TOÀN CẦU] CƠ HỘI NHẬN $20,000 TỪ CUỘC THI "ICC NIUM 'NEXT-IN' HACKATHON" (MIỄN PHÍ THAM DỰ)
🎯ABOUT NEXT IN 2.0
Welcome to ICC Next In 2.0 – the revolutionary hackathon that merges the exhilarating world of cricket with cutting-edge technologies like AI/ML, Fintech, AR/VR, and more. Prepare to ignite a new era in cricket innovation and unite with the worldwide community of sports and technology innovators.
In this edition, ICC & NIUM join forces once again to push boundaries and enhance the future of cricket. With three captivating tracks, we invite innovators, professionals, startups, and students to showcase their brilliance. Guided by industry experts and mentors, distinguished experts and cricket legends will evaluate your innovative creations.
ICC Next-In 2.0 offers a prize pool of $20,000 for the most innovative and groundbreaking ideas! The Hackathon will also provide participants with the opportunity to secure funding from prominent Angel Investors & Venture Capitalists who will have a keen eye on proceedings. Whether you're a cricket enthusiast or a tech wizard, Next-In 2.0 awaits your passion and creativity to unlock the future of cricket and captivate fans worldwide.
🎯Who can participate?
• Working Professionals
• Startups
• Entrepreneurs
• Students
• Innovators
• Freelancers
🎯TRACKS:
1. Performance Analytics:
Dive into the realm of data-driven insights and analytics to transform how players and teams strategize and perform. Harness the power of AI/ML and Data Science to uncover hidden patterns in player performance, optimize training regimes, and gain a competitive edge. Delve deep into player statistics, injury prevention, and game analysis to elevate cricket to new heights.
2. Fan Experience
Craft immersive experiences that bring fans closer to the game, whether they're in the stadium or cheering from home. Utilize AR/VR, Web3, and immersive technologies to transport fans into the heart of the action. Enhance match viewing with interactive features, virtual meet-and-greets with players, and personalized content. Redefine the fan experience and create lasting connections between fans and their favourite teams.
3. Cricket at Grassroots
Envision a world where cricket coaching and playing are accessible to all, nurturing talent from the grassroots level. The aim is to revolutionize cricket by leveraging technologies such as Fintech & Blockchain to create inclusive pathways for budding players and enthusiasts, bridging the gap between aspiring cricketers and experienced coaches. Engage in this track to transform cricket into an inclusive sport accessible to all and for everyone to enjoy. Foster the growth of the next generation of cricket champions.
NOTE:
Participants must explore the cutting-edge technologies that define the future of innovation, such as AI/ML (specifically generative AI ), Fintech, AR/VR, Web3, Blockchain, and Data Science. The usage of technology within each track is not limited to the listed options but must include at least one of the technologies mentioned above.
🎯Cash Prizes Worth $20,000 & an exclusive chance to secure funding from investors.
🎯Registration Deadline *Fri, 29 Sep 2023*
🎯REGISTER NOW: https://hackathon.icc-cricket.com/?utm_medium=OUTREACH&utm_source=khanvietnam
Phượt khám phá việt nam
Thế giới du lịch
Kênh khám phá trải nghiệm
Những chuyến đi dài tuổi trẻ
Thông tin du lịch việt nam
Đi và cảm nhận cảnh đẹp đất nước